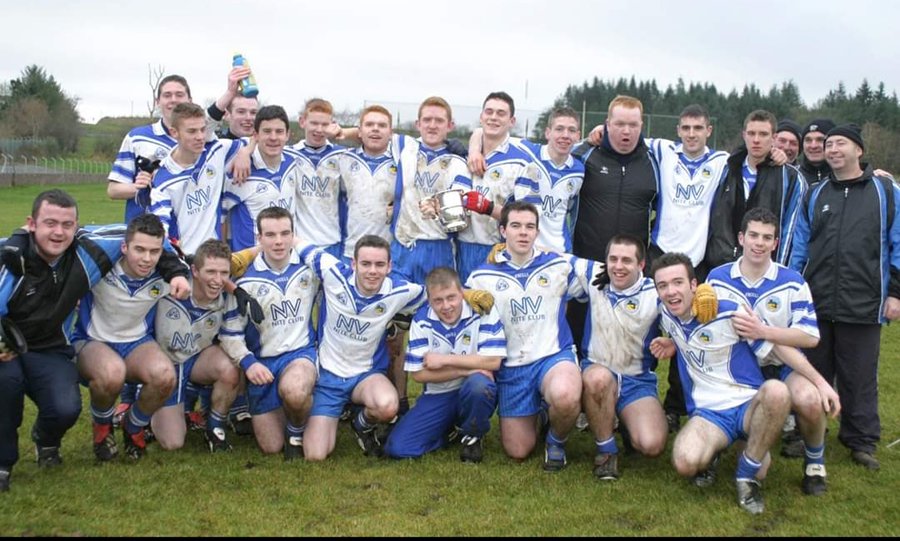 2003 Armagh u21 Champions - Dromintee
contributed by Niall McCoy
IN 2003, Dromintee were on a crest of a wave as their seniors continued to move towards the upper echelons of Armagh football.
Many of the players were still u-21, so ambitions were high as the club chased a first Armagh title at that level. In the space of a few winter weeks, history would be made as Aidan O'Rourke's team marched through the tournament and capped off the campaign with a thrilling final win over Crossmaglen in Keady.
Wins over Middletown (walkover), Silverbridge, Wolfe Tone and Clan na Gael had secured a final spot for Dromintee, a game that was scheduled for a few days after Christmas.
Kevin Fearon had the honour of leading the St Patrick's men out for that December 27 clash, and he said that the Silverbridge game was particularly important for their development.
"We took it seriously from the start," said 'Rooster.'
"The 'Bridge were a decent outfit and we struggled to get over the line in that game. It gave us huge confidence for the other rounds.
"The management team was good, Aidan took the sessions, which were intense and tough. He took every player aside and talked them through exactly how he wanted us to play and our role within the team."
Half-forward Ruairi Murphy said that while the final itself was unforgettable, there are some blackspots when it comes to the run up to it.
"It is actually difficult looking back now and trying to remember too much about the campaign because the final sticks out so much," he said.
"I had just turned 18 before the final so I was 17 for most of the year. We were also in the middle of a fairly decent year with our minor team.
"I was in and out of the team and at that age, not to take away from the competition, you're probably not focusing on it too much in the early rounds.
"There was an intense period of training in the autumn time, and coming from minors it was the first time you trained with regular senior players like 'Rooster', Shane O'Neill and 'Beaver' and people like that.
"Aidan brought styles and coaching techniques from Armagh that he had learned, and he put us through those.
"It was definitely a big step up but it was a great bunch of lads. One of the things I remember was the real mix within the squad. You had people as young as Paul Rocks, Kevin Dyas, our own minor team which provided a good spine of players and then your older players like Philly, Shane Toale, 'Beaver', Shane O'Neill."
As the victories stacked up, so did the enthusiasm. A 3-17 tally posted away to Wolfe Tone gave an indication of the attacking prowess on show and the side looked stronger as the tournament advanced.
Despite the turkey hangover, a huge Dromintee crowd travelled to Keady for the decider.
Tradition lay with the Rangers – and they were aiming to make it two big wins in a few months over Dromintee having won the Senior final 0-13 to 0-11 that year.
At half time Crossmaglen led by a couple of points having been much more economical in front of the posts.
O'Rourke's instructions in the dressing room were clear. 'Calm down, we are in a great position.'
After the break, Dromintee upped their game considerably and their fitness work became evident as the game wore on – a goal from Micheal O'Rourke and Paul Rocks in each half proving crucial as they came through with a couple of points to spare.
Tactical alterations played a part in that too, with Murphy and Colum McGuinness acting as almost rotating substitutes to ensure that they could both have a big impact on proceedings.
"Cross had the likes of the Kernans who maybe weren't starting for Armagh, but were certainly getting called up," Murphy continued.
"I came on after 20 minutes for McGuinness. He was suffering with an injury. The game was incredibly intense, a pace I was not used too. I was happy to get my hands on the ball, lay it off and do whatever I could.
"Half-time is probably the bit that sticks out the most. I think we were two down, there was no real wind either.
"What you are used to in those sort of circumstances is half-time team-talks that are going to be all about motivation and shouting and throwing things.
"In my mind going in I was thinking that it's going to have to be even bigger than that because this is Crossmaglen and we are behind.
"Aidan and James Daly had a quiet chat, everyone had their heads down, and Aidan said 'we have them exactly where we want them.'
"At the time I was thinking 'what is he on about' but then he calmly spoke about how we had been dominating all over the field but things weren't going our way.
"All of a sudden everyone was very calm and in the second half we just slowly turned the game. We grinded them down."
It was left to Paul Rocks to grab the decisive goal and the full-time whistle sparked jubilant scenes.
For Fearon, getting to be the first Dromintee man to lift the trophy was a massive honour. In a gracious acceptance speech, he praised their opponents for a great match on a heavy pitch.
"Being captain was a big honour," Fearon said.
"I remember after each session before a game getting in the huddle and asking various players what it would mean to win. It meant you heard from all players, especially the quieter ones like Mickey Mo.
"It made everyone realise what it would mean to everyone else if the club won something. I felt it helped pull us together."
After a pit stop for some 'refreshments', the bus pulled into that club that cold winter's night and the party started. History had been made.
"It was a feeling you would love the capture and relive," Murphy added.
Squad: Philip McEvoy, Shane Toale, Kevin Dyas, Tommy White, Gareth O'Neill, John Fearon, Micheal O'Rourke, Ciaran Rocks, Kevin Fearon, Ruairi Murphy, Rory McKeever, Sean Hughes, Shane O'Neill, Paul Rocks, John Molloy, Paddy Garvey, Michael McGahon, Anthony Fearon, Colum McGuinness, Lorcan Egan
Management: Aidan O'Rourke, John Harte, James Daly, Owen McGinnity, Ronan Murphy
U14's League and Championship Winners 1986